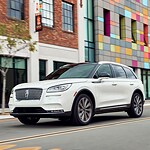 You might have looked at crossovers on the road and wondered what makes them so appealing to car buyers today. In fact, they come equipped with a host of features that people find difficult to pass down when they are in the market for an appealing and reliable vehicle.
They are designed to essentially offer much of the same perks found in their fuller size counterparts. For example, some crossovers come with third-row seating that makes them ideal for family driving. You can pack as many as seven people in a crossover without making anyone feel cramped or crowded.
Crossovers like the Lincoln Corsair also are more fuel efficient to drive. When gas prices climb, you avoid paying big bucks keeping your crossover fueled up. Their smaller gas tanks make affording gas for them easier for families on tighter budgets. Finally, they are efficient at towing moderate amounts of weight. They can also be equipped with trailer hitches.