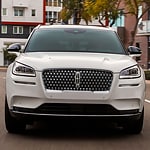 Windshield wiper blades often become deficient during a rainstorm, much like the inconvenience of a smoke alarm that goes off during the night, rather than the daytime. And they are an essential safety part, regardless of the type of vehicle you drive in Salem, OH.
The most common sign is streaks of rain on the windshield while the wiper blades are operating. Other signs include windshield smearing or wiper blades that are hard, cracked, or broken. The wiper blade assembly is constructed with three parts, and they include a lower wiper arm, metal brackets, and rubber blades.
Replacing wiper blades can be a do-it-yourself installation; however, the installation must be done accurately, or loss of driving visibility can occur. Donnell Lincoln of Salem has highly skilled technicians to ensure the installation is done with precise results. use our online scheduler to schedule your appointment.